Welcome
Kliplite is a line of clip-on music stand lights to meet your musicians' needs. Our products include both LED and conventional stand lights, LED insert modules, cord sets, and AC adapters if you want to save your batteries. These high quality lights can attach to any type of music stands, making them perfect for orchestras, bands, conductors, or anyone else who needs to have a reliable stand light.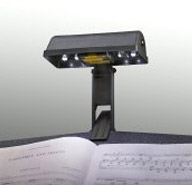 The Cordless LED Kliplite music stand light is completely portable and light weight, this state-of-the-art battery operated music stand light allows up to 20 times longer battery life for up to 16 hours of continuous music light with standard alkaline batteries. Replacement of the batteries in this music light is simple and quick. Eight long lasting LED's will provide music light in just the right place on your music stand or anywhere it is needed. Looking for music light convenience? You're looking for our Cordless LED Kliplite, there's no other music stand light like on the market like it!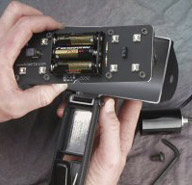 The Kliplite music light Cordless LED Insert Module allows you convert all of your older Kliplite model music stand lights into the new LED model music stand light with ease. When upgrading Kliplite music lights there is no need to purchase the whole LED music stand light to replace your current UKL/95/EU and UKL/II/EU model music stand light. Upon converting your Universal Kliplite you will be able to enjoy all of the features of our Cordless LED music light. If you are using a Universal Kliplite with a drop cord upgrade to cordless today!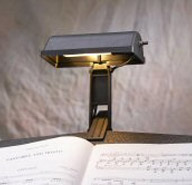 FULLY ADJUSTABLE MUSIC LIGHT. The Universal KlipLite UKL/II/EU music stand light can attach to all types of music stands and adjusts to any angle for music light on your music sheet. Made from injection molded nylon / glass, and finished in textured black. UL approved this music light comes with on-off toggle switch, full 8-foot cord, and can use standard 15 to 40 watt tubular high intensity bulbs. Also note that the UKL/II/EU music stand light may be upgraded to our Cordless LED Kliplite music stand light with our easy to install music light LED Insert Module.